Add Me to Search: Google has released a new personalized Google people card for everyone, who wants to show their bio-data information on the Google Search engine has to upload the complete details, Google has updated this Google Card in the month of August 2020. This is one of the great features for businessmen, local businesses, bloggers, famous personalities, celebrities, sportspersons, political leaders, small business persons, and all other persons who want their name on Google.
Google has introduced Google people card feature on important basis, it helps to access the real time information about particular person without any deep search. This feature rollout from 11th August 2020 over the world
PROS
Better search personality viewable.

Knowing personality is easy.

Benefit for business persons.

Business improvements with better search information.

Best for bloggers.
CONS
Privacy issues.

Not good for women/girls.

Not recommended for housewives.

Data theft chances.

Chances of misuse.

Same name ranking issues.
If you're a business person or famous personality then use it, not recommended for others for personal use..
Add Me to Search
The most awaited feature for everyone who interested to share their basic bio information on Google, may helpful for the Career, personality, and business-building purpose, use this Google people card and get included in the search engine.
Most Awaited feature for everyone.
Most useful for famous persons.
Basic biodata in one place
Social account links information, mobile number, and personal email id.
Add and remove a profile at anytime
No restrictions, everyone can add utilize this feature.
Add me to search is one of the important features for the small-medium business persons.
How it Works
Add me to search works based on the "Person name" search, when a person has a unique name including with surname then it will show in the first place of Google surfing Page. Simply follow the below screen instructions and get your Google Card instantly.
Add Me to Search Card Online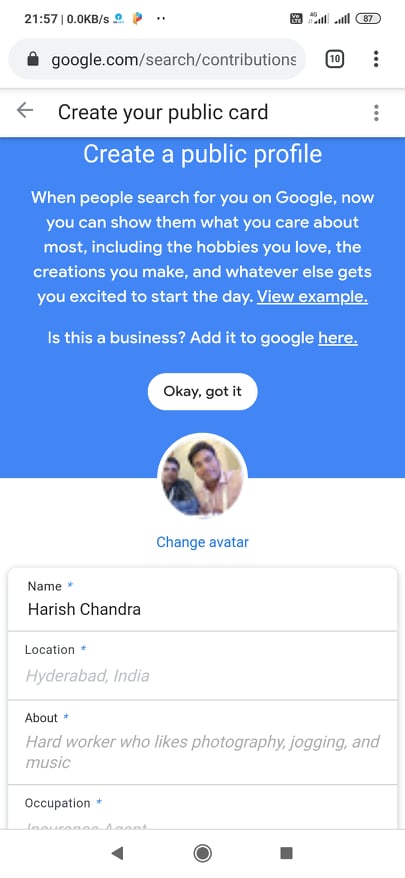 Go to the Google Engine in Mobile, then Type "Add me to Search".
You should log in with Google Account.
Once the login completed, then you will see the "Create Your Public Card" option.
In that option, Add your details, like profile photo (add/remove/modify), about section.
In social profile option, Add various social account profiles, for example, Facebook profile link, Twitter profile link, Instagram profile, LinkedIn profile, Pinterest profile, Soundcloud profile link, YouTube channel link, and then click on "Save" button.
Enter the Email ID, and Phone number (mandatory for mobile verification) and then click on the "Next" button.
Now, you will get the "Google Verification code", use that code and click on the verify button.
Once the verification is completed, click on the "Preview", if everything is correct then click on the "Submit" button.
Finally, you'll see a success popup "Your Add me to search has been updated and will appear in surfing results shortly".
That's all "Your add me to search" will be created successfully.
Your Google profile card will appear in the search engine with in 1 hour or 4 hours.
Utilize this "add me to search" feature and get in touch with your clients and business partners.
How to add add me to search card on Google?
Use Google mobile version with Google account login.
Can I create in Desktop version.?
No, Only mobile version is available.
Where to find the "add me to search link?
On Google Search directly and no special link are provided.
How to Add Google search card?
Follow the above post instructions and create Google People card online instantly.
Not Convinced with the above plan and discounts, Join our mailing list for best discounts and offers!