Ok Google Not Working
What is "Ok Google Not Working"
How to Fix the Google Assistant Not Responding
What are the common problems with Google Assistant
Why This Issue in Mobile Phones
Important Settings
Frequently Asked Questions FAQ on Google Assistant
Conclusion
Hello everyone, today we're happy to assist you on "Google Assistant Not Respond Correctly". Well, this is the common issue in few brand level mobile phone but not all mobile phones.
Google Assistant is a voice over search in the Google instead of text search, which helps faster search with the help of Voice, this technique will minimise the human effort and time, and also it shows accurate results with 99% exact search results.
Let us start to look at the issue to fix by using simple methods, before that we have to check the mobile Google Assistant Voice Settings. Why because, as per our observation, few of Samsung mobile phones are disabled voice assistant option, but it frequently enabled in the Xiaomi (Redmi & Mi series mobile phones).
Method#1: Check Voice Option Settings
Follow the below navigation n as per the provided images; go to Settings -> Voice -> Select the required language from the voice menu. (For assistant check the below images).
Once the above settings are done, then check the Google Assistant Voice over assistance on the Google Search bar (Look the below Images for navigation), tap the mic symbol and test with voice, if it is working then it fixed. If still not work, then check the next settings.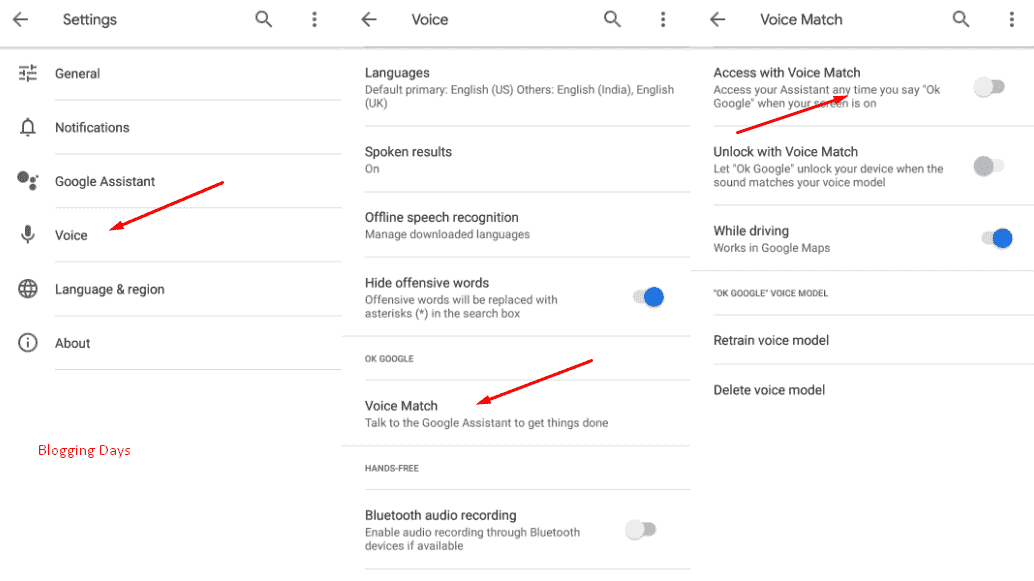 Method#2: Check Microphone on your Device
Generally, Google Assistant relies on uninterrupted access of voice over the microphone it may cause an error if your voice does not reach voice matching point clearly, check carefully and clear any unwanted dust particle over there. If you've proceeded for the cleaning then must and should understand this microphone need dust cleaning with care.
Sometimes, the few mobile apps are running with a little bit noisy and not allowing other apps a few functionalities based on the apps interface with microphone option, find out those apps and disable microphone access.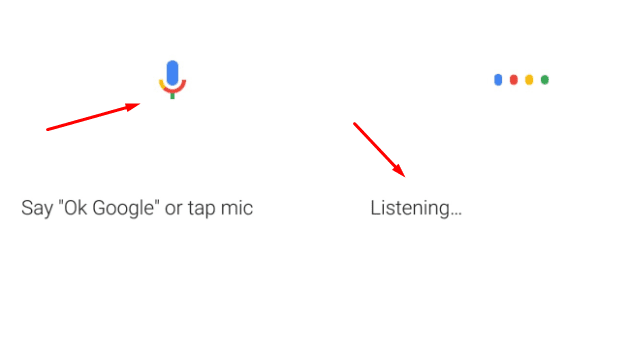 Method#3: Online Fixes
Simple fixed by a switch on to Interview either Wifi or Mobile data.
Still, not fixed, then better check these simple rules, Maybe you forgot to ON Wifi or mobile data. Make sure, while you're working on Google Voice Assistant, either Mobile Data or Wifi should ON. As we know, Google Voice Search (GVS) working based on the Internet.
Method#4: Are You using Samsung Mobile Phone
Are you using a Samsung mobile phone? If yes, then Google Assistant is not compatible with Bixby (older version of S Voice App), if you're using Bixby then, go to the settings and select the Google Assistant Voice over instead of Bixby option in settings.
Path: Check at the S voice or Bixby, use the long press and select the disable option. And, now, Google Voice Assistant is working fine in the Samsung Mobile Phones.
The below Samsung series mobile handset are not compatible with Google Voice Assistant (GVS) and use the above method to fix the GVS issue.
ok google not working s8
ok google not working s9
ok google not working s7
ok google not working note 8
Method#5: Latest Android OS Versions like Pie
Sometimes What happen, new Android versions of Operating System (OS) is creating such GVS issues due to device and OS incompatible each other. If you're using any remote OS installation, then it may reason to GVS  error creation. Always go for the updated version by handset, and it may help for the fixing Google Assistant voice enable by automatically.
We observed few of Google-based mobile phones are also created such an issue called "ok google not working pixel". For Google pixel, mobile handset users have to follow the Google Pixel forums for the solution.
Ok Google Set up My Device
Follow the above listed working methods on the setup process of "OK Google ". Nowadays, the Ok Google works of such kind of mobile devices. Above method# 2 is perfect works on the "my device" options. Use has to follow it for solution base. After the setup of my device, the ok Google will turn on automatically.
Say Ok Google
Once the above working setup methods completed, users have to verify the "Say Ok Google" is working or not correctly. Once the OK Google is working correctly, the test multiple times for the re-verification process.
Frequently Asked Questions on Google Assistant
Is there any Google Forum for the Google Product Google Assistant Help.?
Yes, we have several Google forums for the Google Pixel mobile Phone assistance.
Where Should I discuss, If still, I have an issue with Google Voice Search (GVS).?
We have another platform for the solution; Like Quora and Google Forums, other tech blogs comment sections,
How to find GVS is enabled or not While Purchasing Mobile Phone.?
It's simple, just turn on the Wifi or Mobile data and Tap the GVS MIC and start a voice over.
Why is my ok google not working?
All the reason is explained above
How to Use Ok Google Assistant.?
As we discussed above article, follow the steps and start Using Google Voice Search (GVS) and increase your productivity.
Conclusion
Google Voice Search (GVS) os one of the best search method, where, it minimises the human effort and increase the productivity in the search results within a short period. And Also, it gives exact and accurate results.
Use the above any of method's and enable the GVS option and start working on it.
Not Convinced with the above plan and discounts, Join our mailing list for best discounts and offers!