Character AI is of the neural language model chatbot, which provides the generated human text-like responses and participates in the contextual conversion, it blows after the Chat GPT comes into the picture, but it has not fully developed as of now, it is still under the development process. Many users are using the many applications, which are listed below for the instant reference process.
Are you looking for the human generated text?
If yes!!!, then you are on the right page for the brief information;
Human text is more important in order to prevent the AI text from engaging with users in real time.!
We have given the complete information about this.
Character AI
You can communicate with any type of personality under the app as per the below category we have given the "Number of categories" available in it.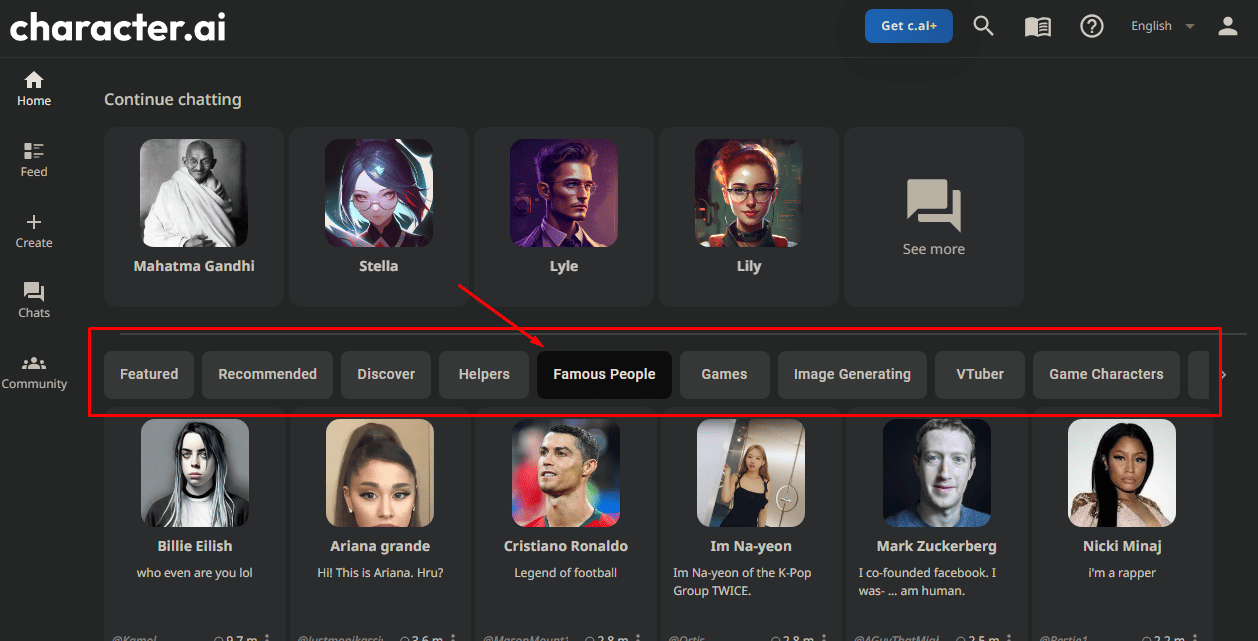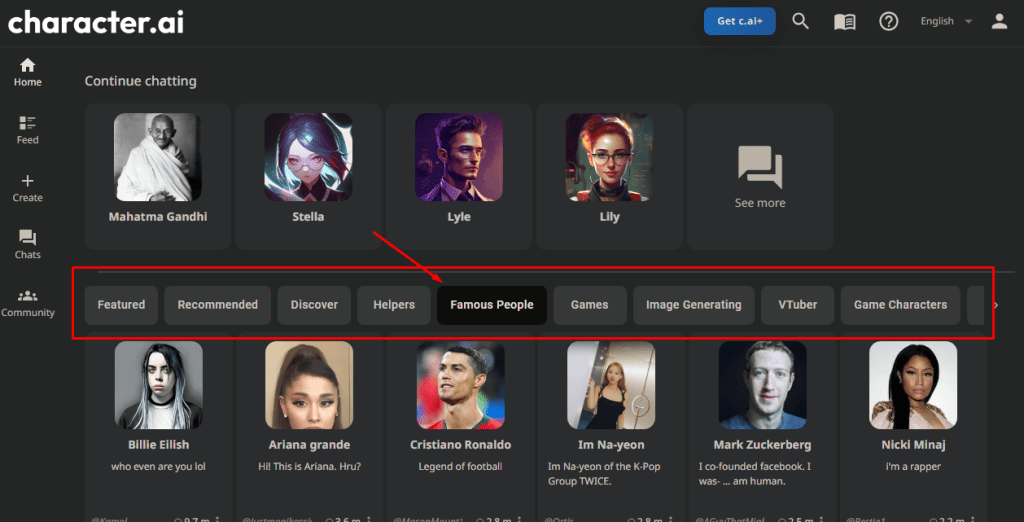 We have a whole category list below for user understanding points;
Featured
Discover
Helpers
Famous People
Games
Image Generating
VTubers
Game Characters
Anime
Movies and TC
Language Learning
Discussion
Religion
Anime Game Characters
Animals
Comedy
Chinese
Philosophy
Politics
Books
The famous tools are listed below;
Chatbots: It can be used to create chatbots that can have conversations with users on a variety of topics. These chatbots can be used for customer service, education, or entertainment.
Story Generators: They can be used to generate stories, poems, and other creative text formats. This can be a fun and educational way to learn about different writing styles and techniques.
Virtual Assistants: It can be used to create virtual assistants that can help users with tasks such as scheduling appointments, making to-do lists, or searching the web.
Educational Tools: It can be used to create educational tools that can help students learn about different subjects. These tools can be used to create interactive simulations, quizzes, and other learning activities.
AI Toolbar
The below image as shown that, it contains the four (4) important options, where users have to navigate with AI features, and do many things like;

Feed: It has real time news or alerts about the work/task that the user did.
Create: A user can create the two types of tasks;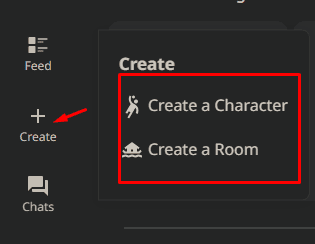 in that; first, Create a character (as the user likes) and second, create a Room (where the user can interact with other users).
Chat: It is a tool, where users can interact with AI persons (human text generators).
Community: In that option, the user can avail of various options; which are;

Announcements
Service Status
Share your Characters
Character Creation Tips
Report a Problem
Feature requests
General
Mobile App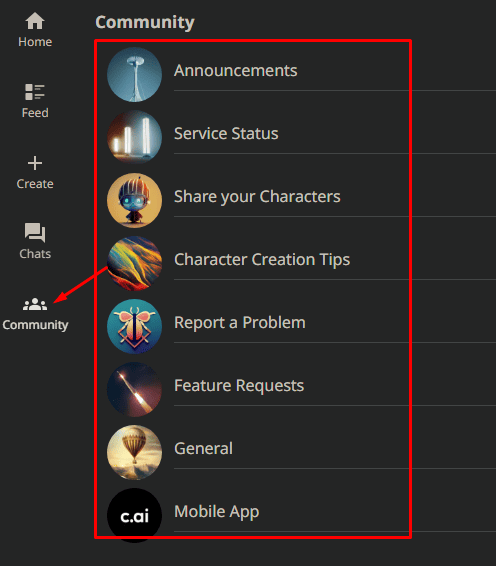 Character AI Plus
If you are looking for the Character.AI cost.?
Character AI has a premium subscription for priority access (no need for any waiting time for the responses from the selected Character).
The price for Character AI is $9.99 monthly.
Below; which are important for early access and other important tasks, which are done in less time;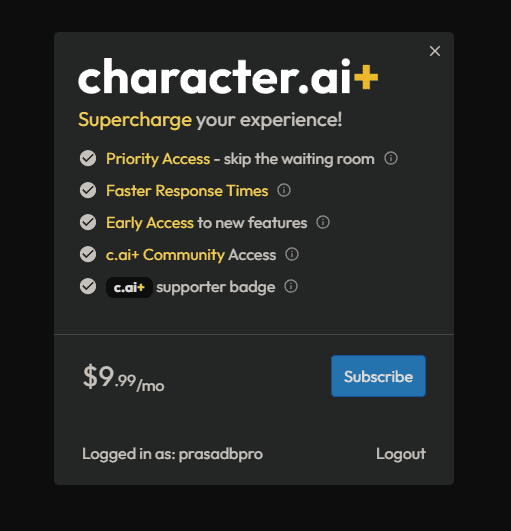 Priority Access
Faster response Times
Early Access to new features
No need to wait for the responses and no waiting room is allowed.
How it Works?
It is powered by the large language model LLM and it is called as LaMDA. The LaMDA is a neural network that has been trained on a big dataset of text and programming code. This allows LaMDA to understand the meaning of given words and phrases and to generate human like text responses on the output side.
First, it understands the context of the conversation given the input side. This includes the current topic of conversation, the user's previous or current messages, and the user's intent. Once the context is understood, tools can generate a relevant response displayed on the output side.
Translate the languages.
Answering questions and queries in real time.
Generating different contexts (Stories, poems, Codes, scripts, emails, letters, and related paragraphs).
Summarizing text.
Create the creative text.
Character.AI Benefits
It has huge benefits in terms of human talk in nature, for those who want to talk with their character (if live or death), it communicates like a real character of life. people just follow the characters, which are available on this tool, and communicate with them;
Human like conversions
Contextual understanding
Continuous Learning
Free to use
Character AI Mobile App
AI is available to both Android and Apple users, they can download it from the store.
Before installing it on your phone/mobile, make sure that you can check App reviews.!!!
Why do App reviews check?
Because the app reviews will give an idea of the app's working status.
beta character ai
Users can download the from https://beta.character.ai/ and sign up with a real email ID and get verified.
Once the verification is completed, you can avail yourself of free access and check with available AI-generated characters.
Character AI Free
Yes, it is free but, it has limited feature access. If you want complete 100% access without any waiting room, then you can avail the paid access for $9.99 per month and check the premium access.
In conclusion, The Character AI is an online platform that allows users to interact with AI generated characters in real time. The platform uses neural language models to generate human like text responses and engage in contextual conversations. Users can also create the characters as per the LaMDA neural network and talk with them.
How to bypass Character AI filters?
In digital content platforms, filters are important in order to avoid impropriate content. Character AI NSFW filters have been met with diverse user feedback. Some of the users. worry that, it exposes their children to improper content in various ways (Including discussions of violence, and abuse). Character AI is an adaptive system that learns from ongoing conversions and it consists of NSFW discussions.
Here is the some of details for bypassing the Character AI. Simply using the Character AI chatbot learning pattern is a useful tool for users seeking to guide the conversational experience;
Character ai bypass reddit
Are you looking the bypass the Character AI?
If yes.!!! then, there is no official update on it.!
If you tried it, then the code will not work during the bypass with the single prompt.
Bypass Tips;
You can bypass many prompts on AI but the response will take a longer time than expected. You can follow the button trick but you will get a 100% response.
The following things may be bypassed?
Use of AI filters.
Userscripts.
Genertaed CAI guides.
Follow sub rules.
Tip: Try to implement in many ways by using single or multiple prompts for the bypass and make sure that, the user has to use the proper prompts.
What is Character AI?
It is a neural language model chatbot.
Character AI Free Vs Premium?
It is available in free and premium.
What does character AI do?
It can be converted with AI-powered characters.
Is Character AI an app store?
Yes, it is available in both Apple and Android app stores.
Can you bypass the Character AI filter?
Yes, it has a filter, the user can opt for that option while using it.
Can character AI creators see your chats?
No.
Is Character AI safe?
100% safe and secure from any unauthorized activities.
Not Convinced with the above plan and discounts, Join our mailing list for best discounts and offers!