Google My Business Verification: Wow, you're looking for listing your business profile in Google for business better performance and it easy to find out exact information about your business. Want a Listing the company in Google Business option, then why you're waiting for. Let's start reading an excellent article :-).
Follow the provided instructions, which help your business in Google Business Account, after approval of the account; users have a good command. Follow the below instruction to set up Google my business verification Account in simple steps. Follow the below steps and get verified from the GMB team. You need a Google verify my business code for the verification process.
PROS
Increase business visibility customers.

High chance for sales.

More business engagement.

Interaction and business information to related customers.

New product information is sharable.

Product sales information to be shared via a new post category.
CONS
Store/business

hours update time to time (Must include holidays and festival dates).

If the product not good, chances of negative reviews.

Never include personal information.
Google Verify My Business
There are three ways to set up the Google My Business Account and get verified from Google my business verification.
Via Desktop Business Account Approval
Can do Mobile App Business Account Approval
Via Video Calling Business Account Approval
Select either option for Business Account Setup Process; We discuss both options for How We can use Approval of Account, step by step procedure as given for the Google my business verification.
GMB Approval
The below image indicates that, after approval from the GMB team, the account will look like as below along with the official website and verified profile basic details.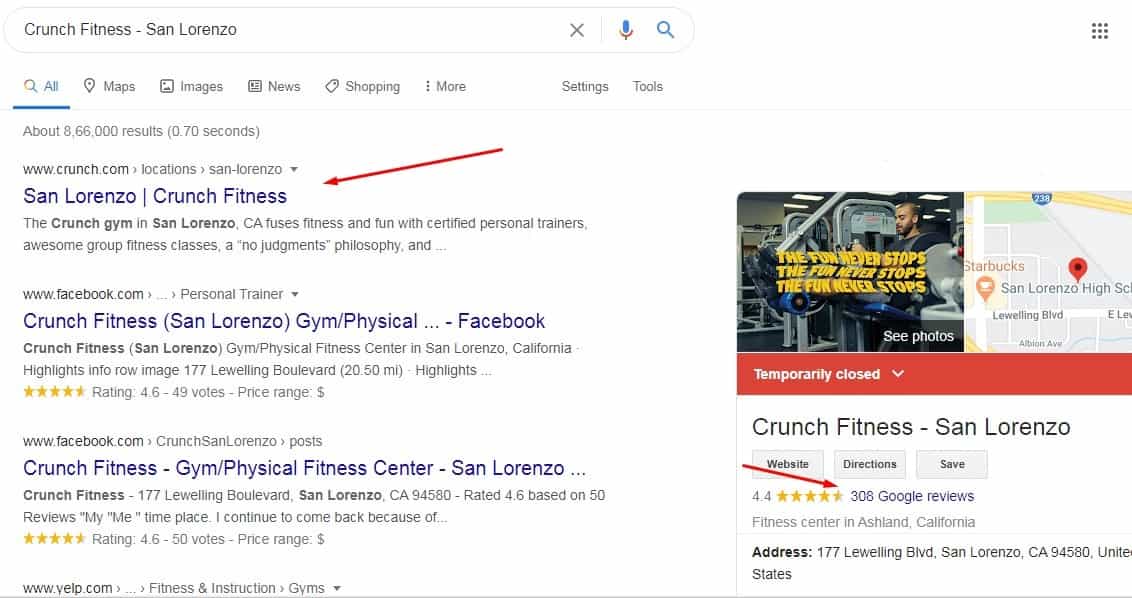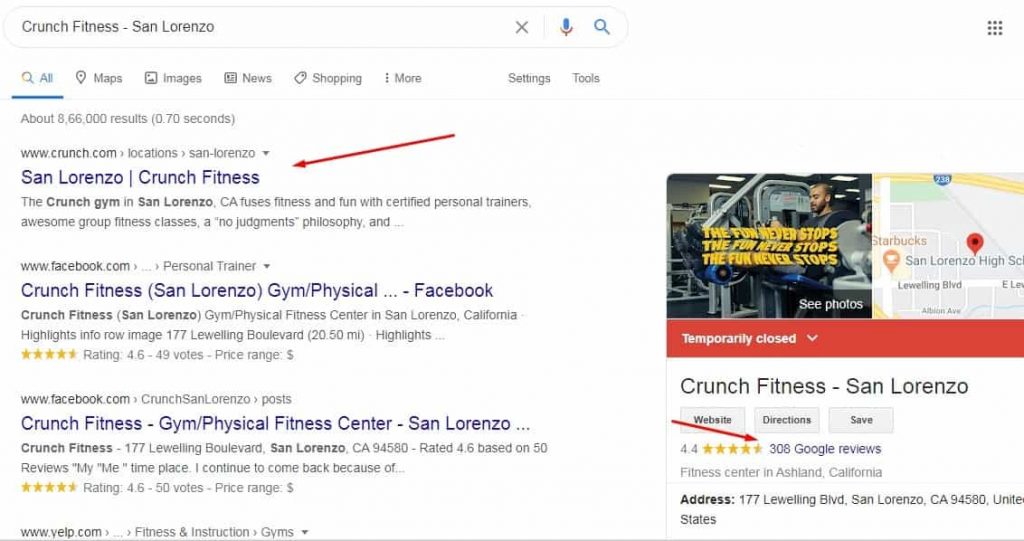 The below instructions for Google my business verification process, follow the as it is for the official approval from team.
Let sign up first at Google My Business Account
Navigate the "Manage Now" button.
Enter the "Business Name" and click on the "Next" button.
Now choose the "Business category" option.
Next option, the text will appear "This location will show up on Google Maps and Search when customers are looking for your business". Click the "Yes" option.
Now, enter the "Business Address", it helps to locate on Google Map.
Very Important Step; Google Maps will appear "There locate the address in exact position".
In the next screen, the formal text instructions will appear "For example, if you visit or deliver to your customers, you can let them know where you are willing to go". Click on "Yes, I also serve them outside my location".
Next "Search and select areas". and click the next button.
Now, enter the "Contact Number" and Current Website URL (if don't have a website then select "I don't need a website").
Finally, click on the "Finish" button.
Dont forget to audit your GMB
Once the above procedure is completed then, you will get a confirmation of Approval or Rejection within 15 to 30 days from the date of the application form. Google my business verification will take a longer time than as usual.
Mobile App Google my Business Account Approval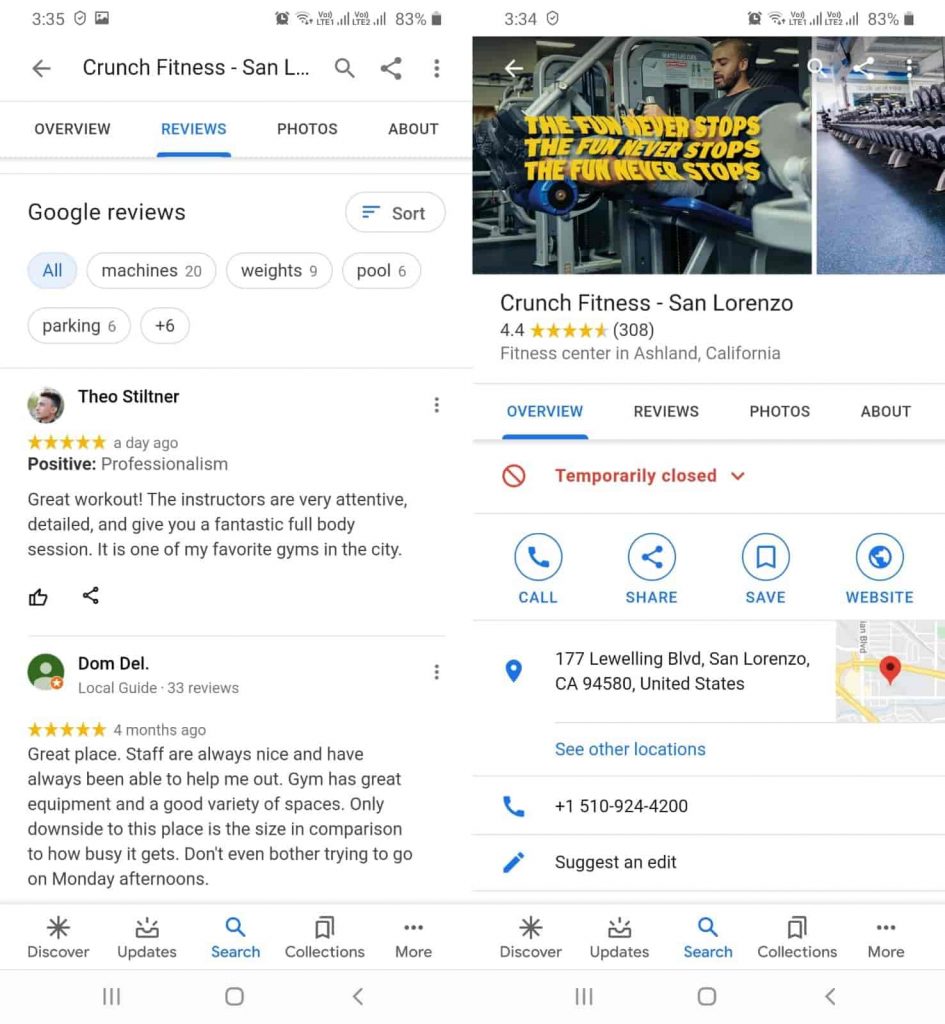 Let download the Google My Business App (Android or Apple Stores)
After login with Gmail account email id. Now, tap on the Call Me Now
Now, enter the verification code after verification of the mobile number.
After verification of the account, now proceed to fill the business-related details.
how to verify my business on google without postcard
Google Business Video Call Approval
Yes.!. If you're running Shop related business other than online work, they could probably get video calling business account verification, check out the below screenshots of shop associated account received video calling approval method.
Once the call scheduled, Google My Business team make a video call to see the entire shop and location in Video Calling.
You have to show the shop in Video and Street location, once it has done, Google My Business team will approve your account within 24 hours of time.
Video Verification Screenshot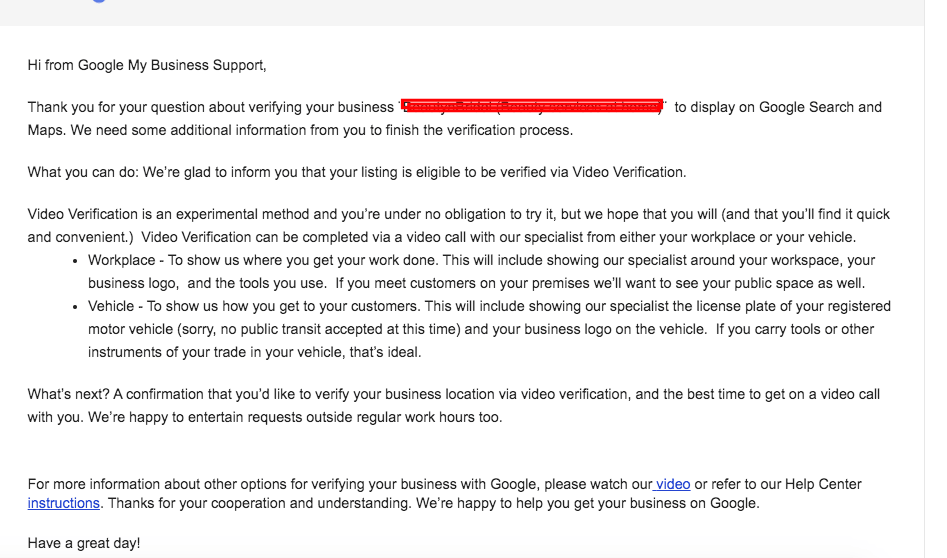 Video Verification Scheduled Time Screenshot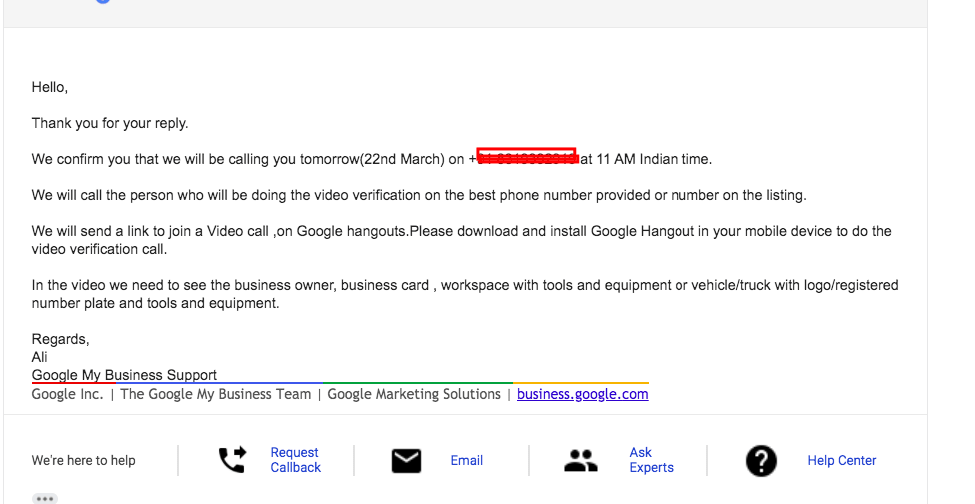 Google My Business Account Approve Via Post Card
Google my business account is also have another method called Approve via Postcard. Google team scheduled to verify the location via Postcard; it consists of secret OTP.
You have to verify postcard OTP in the dashboard of my Google Business Account. Once account verified, then you've to proceed to upload the business details in the account dashboard.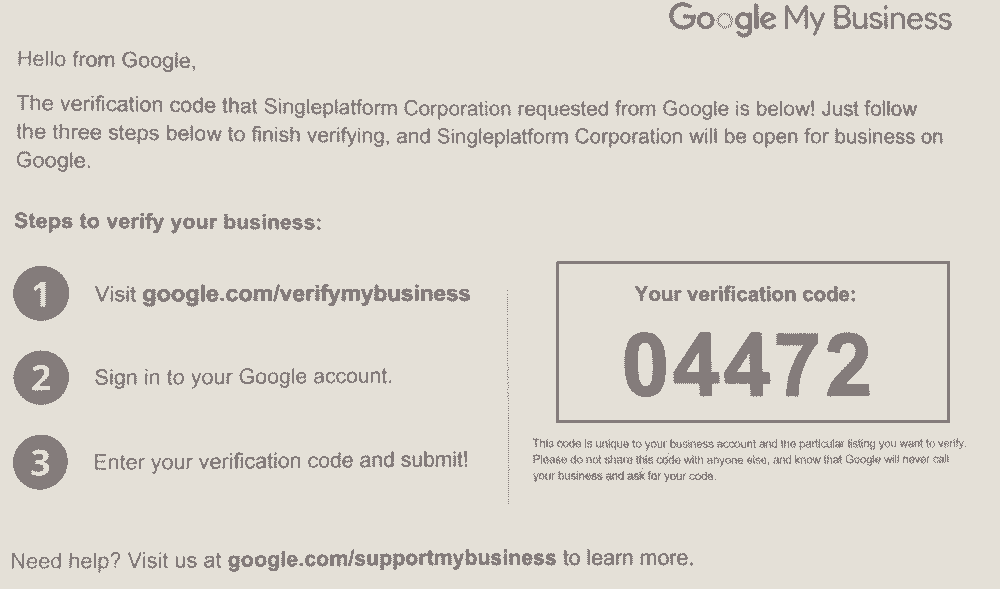 Account Approved, Now What To Do
Add Images
Add your business description
Add work hours scheduled time
Add posts (either regular or weekly twice for engagement)
Add business phone numbers.
Add the exact location of the office/business office.
Always create precise and exact information.
Add relevant information
Looking for Google Business Account Assistance.???
Want to approve business account in the US, India, and UK locations, then contact us for assistance, We help you with account approval with minimal charges.
Google my business verification code
Google will send the verification code for business address verification process, In the settings option, you have to execute the Google my business verification code for the verify process, once the verification is completed then Google my business account will be displayed on the Google SERPs
Google my business verification code plays key role for the address verification, this is the manual method for the GMB address verification method.
Google My Business Verification Service
Those who are looking for the paid service for the "Google My Business Verification" from "bloggingdays" team, we glad to help on GMB verification, and we will give delivery within 15 days, Use the below order form and proceed for the order.
Once the order completed, we will contact you over the mail for the required detail for GMB verification purposes.
Do's
Always focus on the business implementation process, and add exact and relevant information.
It helps local SEO and business profile ranking in native place.
Don'ts
Don't add so many keywords and unwanted text stuffing.
No Need to add any backlinks in the text area.
Don't use capital letters, and it may ban the account.
How do I set up Google My Business for both Local and Non local SEO?
Follow the above steps and get approval from Google.
How Can I create a Google my business verification account for my website?
Go to the "Google My Business" and Create the account with accurate details.
What is mean by Google my business verification page?
It is the identity of the service provider and they can promote the hop or service via Google My Business page.
How to verify my business page in Google?
Follow the above screen instructions and get the approval within 15 to 30 days.
Where do I enter my google business verification code?
There will be a specific location after verification code received. Check in the my account page and there click on the Verify option.
Where to input verification code into google my business verification?
Under the my account and once the use the GMB code, your page will be verified instantly.
I done Google my business account but not approved?
Check the where you did mistake while application submission and sort it out and you will get verification email or call from GMB team.
I submitted GMB application but I have not Google my business verification code received.?
You have to wait at least 15 to 30 days or some time it varied as per the address location. If rural then Google my business verification code will deliver a bit late as compared to urban areas..
My Google my business account is verified but business profile not showing in Google search, what should do?
Sometimes Google my business account fetch will take time, wait 2-7 days for the live.
Not Convinced with the above plan and discounts, Join our mailing list for best discounts and offers!